Abdou Bakari Boina (1937-2018)
Secretary-General of the Mouvement de Libération Nationale des Comores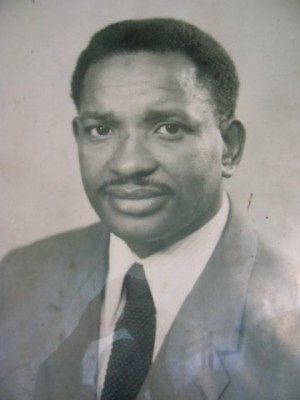 (Version français suis)
Abdou Bakari Boina was born in 1937 in Kuwa, in the north of the island of Grande Comore (today known as Ngazidja). Situated at the northern entrance of the Mozambique Channel, between Madagascar and the eastern coast of Africa, the archipelago of Comoros is a crossroads between the Arab and Muslim world, Africa, Asia, and Europe. Boina's father was a Muslim leader, the head of the Shadhili Sufi fraternity. In 1952, the young Abdou Bakari joined the Regional Primary School at Mitsamihuli, under the status of a 'native child'. Born into a family of modest means, he was a brilliant school pupil. In 1954, Boina gained entry to the newly opened secondary school in Moroni. He left Comoros for Madagascar in 1955 to join the troisième in the town of Majunga (today Mahajanga).
After completing his studies in Madagascar, Boina returned to Comoros in late 1957. He began work as a primary school teacher in several places in Grande Comore and the island of Anjouan. During his teaching career, he joined voices of opposition who denounced the practices of colonial society and called for agricultural reform. This attracted the wrath of the archipelago's elite. In May 1962, Boina was recruited to a teaching position at the Franco-Comorian primary school in Zanzibar.
Zanzibar, the birthplace of MOLINACO
As Comorians migrated beyond the archipelago around East Africa's Indian Ocean, the islands of Zanzibar became their preferred destination. The number of Comorians there increased rapidly during the era of the Omani Sultanate, concentrated in Zanzibar Town. Common religious and linguistic ties – Shikomori is related to Swahili – made Zanzibar particularly attractive for Comorian migrants.
Comorians regularly went to Zanzibar to purchase spices, clothes, and traditional dress used for marriages and other ceremonies. Many Comorian religious leaders were also educated in Zanzibar's Islamic theological schools. Zanzibar thereby became the adoptive home for a mobile Comorian diaspora, who worked in a diverse range of jobs, including in education, healthcare, and the police. A small, locally-born elite, which was educated in English-language schools, reached the top levels of the administration, which until then had been the preserve of descendants of immigrants from the Arabian peninsula.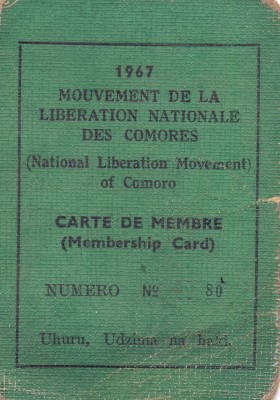 Zanzibar was also the birthplace of the Mouvement de Libération Nationale des Comores (National Liberation Movement of Comoros, MOLINACO). Angered by the ambivalent attitude of leaders in their country of origin to the question of independence, young Comorians in Zanzibar did not hide their desire to cut the fetters of French colonialism. They questioned the choices taken by the Comorian leaders at the time of the referendum of 1958 proposed to France's African colonies by General de Gaulle. While people across Africa were demanding complete independence, the Comorian elite had chosen only internal self-government. These young Zanzibari-Comorians were galvanised by the spirit of independence in Africa, particularly the proclamation of independence in neighbouring Tanganyika on 11 December 1961. They believed that Comoros must follow this same direction and liberate itself from the colonial yoke. In 1962, they founded MOLINACO. Abdou Bakari Boina, who had recently arrived in Zanzibar, threw his support behind this initiative. For the youths among the Zanzibari diaspora, who had little knowledge of developments in Comoros, Boina was a key source of information about the political situation in the archipelago.
MOLINACO's global connections and Comorian independence
MOLINACO served as a catalyst for Comoros' accession to independence. It set about promoting the liberation cause from outside the archipelago. Abdou Bakari Boina, who was still a French employee as teacher at the Comorian school in Zanzibar, was initially not officially involved in MOLINACO's leadership. Ali Mohamed Chami headed the movement as its president, Youssouf Abdoulhalik took on the role of vice-president, and Ali Mohamed Saghir became its secretary-general. It was only in 1966 that Boina took on the role of secretary-general. At that time, MOLINACO's offices were in Dar es Salaam.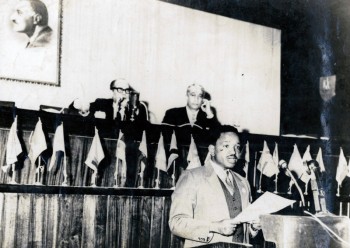 MOLINACO began an international campaign to publicise the struggle of the Comorian people. It burst onto the scene at the Third Afro-Asian People's Solidarity Conference, held at Moshi in Tanganyika, in February 1963. In May, its president and vice-president travelled to Addis Ababa to put its demands for independence before the Conference of the Heads of African States. Their journey was paid for by the Tanganyikan government, as well as by funds collected from Comorians living in Dar es Salaam. After its 'diplomatic victory' in Addis Ababa, MOLINACO intensified its campaign around the socialist world. It sent an emissary to Cairo in the form of Ali Mohamed Chami in June. Chami obtained an interview with Gamal Abdel Nasser, who listened attentively to the MOLINACO president's requests. At the invitation of the Chinese Afro-Asian Solidarity Committee, Shami then arrived in Beijing on 31 July 1963. He was followed by Sakina Ibrahime, who participated in a visit by 'Afro-Asian' women in China. She met the Chinese prime minister Zhou Enlai and visited factories and projects which showcased the achievements of the Chinese revolution.
Under the leadership of Abdou Bakari Boina, MOLINACO reached a growing number of educated youths in the archipelago and among the Comorian diaspora in Madagascar and East Africa. For a time, the new leader of MOLINACO was tempted by the idea of launching an urban guerrilla war struggle in the archipelago. Boina was convinced that the conditions inside the country were ripe for it, but he ultimately discarded the idea due the complex nature of organising such operations. He chose instead the path of challenging colonialism by diplomatic means and raising the consciousness of the people inside the archipelago. Boina led a sustained campaign to influence African opinion, which led to a resolution being tabled at the Organisation of African Unity (OAU) in July 1966, calling on France to confer the right to self-determination on the territory of Comoros. However, the OAU's Council of Ministers rejected the resolution under considerable pressure from France. MOLINACO developed another campaign directed at the 'progressive countries' in the wider world. Boina travelled to the Soviet Union, where he met not only with the authorities, but also key individuals at universities and technical institutions. Back in Dar es Salaam, Boina was friends with other charismatic African liberation movement leaders including Joaquim Chissano of Mozambique, Amílcar Cabral of Guinea-Bissau, and France Albert René of Seychelles.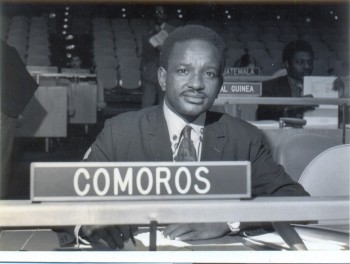 MOLINACO opened a branch in Kenya, which was directed by Noordin Abdoubacar. He was based in Nairobi and published several articles in the local press, notably in the magazine Weekly News. In 1967, one of his articles affirmed the fundamentally African nature of the archipelago and its population. The Nairobi branch also organised meetings in Mombasa and on the island of Lamu, where there was a sizeable community of Kenyans of Comorian descent. MOLINACO established representatives among the Comorian diaspora in Madagascar, as well as in the archipelago itself. Perhaps most significantly, it broadcast a daily, 45-minute-long programme on Radio Dar es Salaam. These broadcasts were dedicated to 'the education and preparation of the Comorian people to enable them to rediscover their dignity, sovereignty, and national character in order to build a socialist society…'
Parallel to these 'propaganda' activities, MOLINACO created clandestine cells inside the archipelago. MOLINACO's militants traversed the islands on foot to raise awareness of the deplorable and unacceptable state of the country and the necessity of independence. In the mid-1960s, MOLINACO alone called for independence. It influenced the student uprising at the lycée in Moroni in 1968 which brought about a political revolution in the country. New political parties proliferated, the majority of which were rapidly swept up by the surging wave for liberation which led to the unilateral declaration of independence of 6 July 1975.
The return of Abdou Bakari Boina to Comoros
In late 1974, Abdou Bakari Boina decided to return to Comoros, partly to lead the liberation struggle on the ground and partly to participate in independence talks planned for December. On 26 October, he embarked on an Air Madagascar flight and landed at the Moroni-Iconi airport, where a jubilant crowd awaited him. On the tarmac, he was welcomed by both pro-independence militants and Comorian dignitaries from the internal government. As soon as he descended from the aeroplane, the leader of MOLINACO was literally carried on the shoulders of the overjoyed crowd.
After independence, Boina served as a roving ambassador and advisor to the president, charged particularly with relations with the UN, Africa, and the communist world, then later as governor of the island of Grande Comore. He continued to fight against the separation of the island of Mayotte from its siblings, imposed by France at the point of independence. Boina was a member of the Comorian delegation which travelled to the UN to call for the entire archipelago to become independent within its natural frontiers.
Abdou Bakari Boina died on 14 March 2018. He not only symbolised Comoros' struggle for independence, but also fought against poverty, political conservatism and certain traditions such as the excesses of the grand mariage, which he considered inegalitarian and driven by self-aggrandisement. Boina believed that Comoros' path to development required greater political and economic decentralisation, a guarantee of political stability, and pro-active investment and infrastructure based on coordinated planning. Abdou Bakari Boina always insisted that Comoros' passage from the status of colony to independent state had not been followed by a restructuring of the institutions inherited from colonial rule and many of the archipelago's problems had their origins in this failure.
Further reading – Comoros and the diaspora
Mahmoud Ibrahime, Saïd Mohamed Cheikh (1904-1970): Parcours d'un conservateur. Une histoire des Comores au XXe siècle (Moroni : Komédit, 2008).
Mamaye Idriss, Le combat pour Mayotte française (1958-1976) (Paris: Karthala, 2018).
Toibibou Ali Mohamed, 'Les Comoriens de Zanzibar durant la "Révolution Okello" (1964-1972): la xénophobie de la république', Journal des Africanistes, 76 (2006), 137-54.
Ahmed Ouledi, L'Association des Stagiaires et Étudiants des Comores [ASEC]: Rêves et illusions d'une génération (Moroni: Komédit, 2012).
Ibuni Saleh, A Short History of the Comorians in Zanzibar (Dar es Salaam: Tanganyika Standard, 1936).
Gillian Shepherd, 'The Comorians in Kenya: The Establishment and Loss of an Economic Niche', unpublished PhD thesis, London School of Economics (1982).
Iain Walker, Islands in a Cosmopolitan Sea: A History of the Comoros (London: Hurst, 2019).
Further reading – MOLINACO and Abdou Bakari Boina
'Petite conversation avec Abdou Bakari Boina', Le Supplément de Muzdalifa House, 6 (2015).
Ahmed Ouledi, Abdou Bakari Boina: Une figure emblématique du MOLINACO (Moroni : Komédit, 2016).
George Roberts, 'MOLINACO, the Comorian Diaspora, and Decolonisation in East Africa's Indian Ocean', Journal of African History (open access, 2021).
Archives
Centre National de Documentation et de Recherche Scientifique (CNDRS), Moroni (Comoros)
Centre d'Archives Contemporaine, Fontainebleau (France) 
Haut-Commissariat de la République Française aux Comores, Bureau d'Etudes et de renseignement
Personal archives of Abdou Bakari Boina
Interview with Abdou Bakari Boina
Version française
Abdou Bakari Boina est né en 1937 à Kuwa au nord de l'île de Grande Comore (Ngazidja). Situé à l'entrée nord du Canal de Mozambique, entre Madagascar et la côte orientale de l'Afrique, l'archipel comorien est au carrefour entre le monde arabo-musulman, l'Afrique, l'Asie et l'Europe. Son père a été un grand religieux musulman, chef de la confrérie Shadhuli. Après ses études primaires effectuées à Mitsamihuli, il entre, en 1952, à l'École Régionale de Mitsamihuli sous le statut d'enfant indigent. Issu d'une famille modeste, le jeune Abdou Bakari Boina est un élève très brillant. Il réussit à intégrer, en 1954, le collège qui ouvre ses portes pour la première fois à Moroni. Il quitte les Comores, en 1955, pour faire la classe de 3ème dans la Grande île de Madagascar et plus précisément à Majunga.
Après ses études à Madagascar, Il retourne aux Comores vers la fin de l'année 1957 et exerce le métier d'instituteur dans plusieurs localités de l'île de Grande Comore et d'Anjouan. Durant sa carrière d'enseignant, il prend part à des actions de contestation de l'ordre colonial en dénonçant les pratiques des sociétés coloniales et en réclamant une réforme agraire. Son activisme lui vaut la grogne et le courroux des grands notables. En mai 1962, Abdou Bakari Boina est recruté pour un poste d'enseignant à l'Ecole franco-comorienne de Zanzibar.
Zanzibar, lieu de naissance du Mouvement de Libération Nationale des Comores
Zanzibar est la destination de prédilection des Comoriens. Leur installation sur cette île remonterait au temps du sultanat de Mascate. Zanzibar Town est une ville phare  et son rayonnement vient du fait que le sultan d'Oman avait fait de cette ville, la capitale de son sultanat. Son rayonnement avait attiré beaucoup de Comoriens ; une attirance favorisée par la communauté de religion et de langue.
Les Comoriens s'y rendent régulièrement pour se pourvoir en épices, acheter des habits et autres costumes d'apparats utilisés lors des mariages ou des cérémonies traditionnelles. Ils y vont aussi pour s'inscrire dans les écoles de théologie musulmane de l'île. De nombreux maîtres et autorités religieuses de l'archipel y sont formés. Zanzibar est une terre d'accueil d'une diaspora comorienne très active qui va occuper des fonctions dans des domaines aussi divers que l'enseignement, la police, ou la santé. Une petite élite de souche, formée à l'école anglaise, parvient à se hisser à des hautes fonctions dans l'administration locale, alors aux mains des descendants d'immigrés de la péninsule arabique.
Zanzibar va être aussi le lieu de naissance du Mouvement de Libération Nationale des Comores. Des jeunes Comoro-zanzibarites, échaudés par l'attitude équivoque des dirigeants de leur pays d'origine face à l'indépendance, ne cachent pas leur volonté d'en découdre avec la France. Ils s'interrogent sur les choix opérés par les dirigeants comoriens lors du référendum de 1958 proposé aux pays francophones par le Général de Gaulle, des choix privilégiant l'autonomie interne au détriment de l'indépendance, alors que partout en Afrique, les peuples réclament leur émancipation. Ils sont galvanisés par l'atmosphère d'indépendance régnant en cette fin des années 50 et le début des années 60. Ils assistent à la proclamation de l'indépendance, le 11 décembre 1961, de la Tanganyika voisine. Pour eux, l'Archipel doit suivre le mouvement et se libérer du joug colonial. Ils décident de créer en 1962, le Mouvement de Libération Nationale des Comores (MOLINACO). Abdou Bakari Boina, nouvellement arrivé dans l'île, est un de leur premier soutien dans cette initiative. Il est, en effet, la principale source d'informations sur la situation politique aux Comores pour ces jeunes de la diaspora de Zanzibar qui ne connaissent pas le contexte comorien.
Le MOLINACO et l'avènement de l'indépendance des Comores
Le MOLINACO a servi de catalyseur à l'accession à l'indépendance des Comores. Il va activement promouvoir la cause de l'indépendance de l'archipel à partir de l'extérieur. Ce mouvement politique aura à sa tête Ali Mohamed Chami qui va assurer sa présidence. Youssouf Abdoulhalik prend la vice-présidence du mouvement et Ali Mohamed Saghir devient son secrétaire général. Ce n'est qu'en 1966 qu'Abou Bakari Boina  prend le poste de Secrétaire général. Les bureaux du MOLINACO sont alors à Dar es Salam.  
Le MOLINACO entame une campagne d'envergure au niveau international pour populariser la lutte du peuple comorien. Il est une des vedettes de la « 3ème Conférence de solidarité des peuples afro-asiatiques  » tenue à Moshi (Tanganyika) du 4 au 10 février 1963. En mai 1963, Son président et son Secrétiare général se rendent à Addis Abeba pour porter la revendication indépendantiste à la conférence des chefs d'État africains. Leur voyage aurait été financé par le gouvernement de la Tanganyika et par des fonds réunis au moyen d'une collecte dans les milieux comoriens de Dar es Salam. Le MOLINACO, auréolé par sa « victoire diplomatique » à Addis Abeba, décide de passer à la vitesse supérieure dans sa campagne diplomatique. Il envoie un émissaire au Caire (Egypte) en la personne d'Ali Mohamed Chami. Arrivé le 9 juin 1963 en Egypte, il obtient sans difficulté une entrevue avec le président Gamal Abdel Nasser qui prête une oreille attentive aux sollicitations du président du MOLINACO. Le Président du MOLINACO arrive à Pékin, le 31 juillet 1963, sur l'invitation du Comité Chinois de Solidarité afro-asiatique. Il est suivi par Madame Sakina Ibrahime qui prendra part à la visite des femmes afro-asiatiques en Chine. À cette occasion, Madame Sakina Ibrahime rencontrera le premier ministre Chinois Zhou Enlai. Elle visitera des usines et des entreprises modèles et vitrines de la Révolution chinoise.
Sous la houlette d'Abou Bakari Boina, le MOLINACO trouve une audience grandissante au sein de la jeunesse scolarisée de l'archipel et dans la diaspora comorienne de Madagascar et d'Afrique Orientale. Le nouveau leader du MOLINACO est, un temps, tenté par le déclenchement d'une lutte armée dans l'Archipel, une sorte de guérilla urbaine. Il est convaincu que les conditions du pays s'y prêtent bien, mais il finit par y renoncer à cause de la complexité de l'organisation de telles opérations. Il choisit de poursuivre la voie de la contestation du colonialisme par les moyens diplomatiques et de la conscientisation des masses à l'intérieur du pays. Dès sa prise de fonction, il entame une vaste campagne auprès de l'opinion africaine qui aboutit, en juillet 1966, à la présentation d'un projet de résolution à l'OUA invitant la France à accorder au Territoire des Comores le droit à l'autodétermination. La commission politique du Conseil des Ministres de l'OUA le rejettera toutefois, les 5-6 Juillet 1966, suite à des fortes pressions de la France. Le MOLINACO développe une autre action spécifique en direction des pays progressistes dans le monde. Abdou Bakari Boina se rend en URSS où il rencontre différentes autorités mais aussi des responsables d'institutions techniques et universitaires. À Dar es Salaam, il s'est lié amitié avec des chefs charismatiques dont Chissano du Mozambique, Amilcal Cabral de Guinée Bissau, France Albert René des Seychelles.
Le MOLINACO ouvre une cellule au Kenya, dirigée par Noordin Abdoubacar. Elle est installée à Nairobi et se fait connaître à travers la publication d'articles de presse, notamment dans le journal « Weekly News ». Le 11 août 1967, elle fait paraître un article intitulé « The Comorians » affirmant le caractère africain de l'archipel et de sa population. La cellule de Nairobi organise également des réunions à Mombassa et à l'île de Lamu où vit une forte communauté de Kenyans d'origine comorienne. Le MOLINACO implante des représentations dans la diaspora comorienne de Madagascar et aux Comores. Il émet un programme radiophonique de 45 minutes par jour sur Radio Dar-es-Salam. Les émissions sont consacrées à «l'éducation, la formation et la préparation du peuple comorien à retrouver sa dignité, sa souveraineté, sa personnalité nationale pour construire une société socialiste…».
Parallèlement à ses actions dites de propagandes, des cellules clandestines sont créées à l'intérieur du pays. Les militants du MOLINACO sillonnent à pied les localités des îles pour faire prendre conscience la population de l'état déplorable et inacceptable du pays et de la nécessité de l'indépendance. Au milieu  des années 60, le MOLINACO occupe seul le terrain de la revendication indépendantiste. Il a eu une influence certaine sur le soulèvement lycéen comorien de 1968 qui a induit une révolution politique dans le pays avec la naissance de nouvelles forces politiques. La majorité de ces partis politiques comoriens se sont trouvé rapidement prise par la vague indépendantiste ayant abouti à la proclamation unilatérale de l'indépendance le 6 juillet 1975.
Retour d'Abdou Bakari Boina aux Comores
Abdou Bakari Boina opte pour un retour au pays d'une part pour conduire la lutte de libération sur place et d'autre part pour participer à la campagne pour la consultation prévue pour le 22 décembre 1974. Le 26 octobre 1974, il embarque sur un vol d'Air Madagascar et atterrit à l'aéroport Moroni-Iconi, où une foule en liesse l'attend. Sur le tarmac du petit aéroport, se côtoient militants indépendantistes et dignitaires comoriens de l'autonomie interne. Dès sa descente d'avion, le chef historique de MOLINACO est littéralement porté par une foule en délire.
Après l'indépendance, il a été successivement Ambassadeur itinérant et conseiller auprès du président de la République chargé des relations avec l'ONU, l'Afrique et les pays de l'Est puis plus tard Gouverneur de l'île de Grande Comore. Il s'est battu contre la séparation de l'ile de Mayotte des autres iles sœurs, opérée par l'ancien colonisateur au moment de l'indépendance. Il a participé à la délégation comorienne qui s'est rendu aux Nations Unies pour faire reconnaitre l'indépendance des Comores dans ses frontières naturelles.
Abdou Bakari Boina, décédé le 14 mars 2018, ne symbolise pas seulement la lutte pour l'indépendance, acquise en 1975, son combat était aussi contre la pauvreté, l'obscurantisme et certaines coutumes dont le grand mariage et ses excès qu'il considérait inégalitaire et sources d'exagération tant financière que comportementale. Abdou Bakari Boina considérait que les plus grands défis à surmonter pour amener le pays sur la voie du développement étaient centrés sur une plus grande décentralisation politique et économique, gage de la stabilité, et une politique volontariste d'investissement et d'équipement reposant sur des plans concertés d'aménagement du territoire. Abdou Bakari Boina a toujours soutenu que le passage du statut de colonie à l'indépendance n'a pas été suivi par une refonte des institutions héritées de la colonisation et beaucoup des problèmes de l'archipel trouvaient leurs sources dans ce manquement.