Workshop: East Africa's Global Lives
23 October 2019, IFRA, Nairobi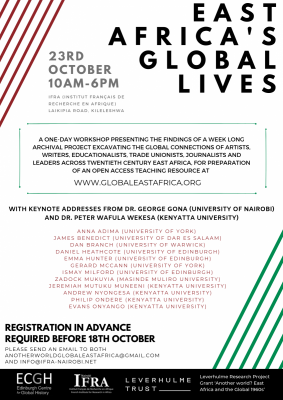 East Africa's Global Lives.pdf
Archival workshop
17-23 October 2019, Nairobi
APPLICATIONS NOW CLOSED
During the workshop, twelve participants (six from UK institutions, six from East African institutions) will meet in Nairobi to carry out original research, discuss findings, and present their work in a public workshop. This will serve as a basis for future projects, including a website, and an ongoing network. Researchers will spend four days in Nairobi's archives and libraries carrying out independent research on the life of a twentieth-century East African individual and their interaction with global currents, meeting each day for an evening discussion and meal. Over the course of the week, each researcher will write one biography of 800-1000 words based on the research carried out, and present this biography at a public final-day workshop on Wednesday 23rd October. These biographies will then be published on a website 'East Africa's Global Lives' a continually-growing, Open Access resource for those teaching African History across the world (specifically at undergraduate level, but also for postgraduate and high school students). As well as gaining experience in working as part of a research team in the archives, producing and presenting research outputs on a fast timescale, participating researchers will build and become an active part of a network of scholars interested in biography as a way to understand East Africa's global histories, with a view to future collaborative events across institutions, both physical meetings and through digital platforms.
Inaugural Workshop: Concepts and methods in East Africa's global histories
27 September 2019, 11am-4pm,
Room 2.05 Geography (Old Infirmary), University of Edinburgh
In the framework of the Leverhulme Trust-funded project 'Another World? East Africa and the Global 1960s', the Edinburgh Centre for Global History invites scholars based in Edinburgh and those at nearby and partner institutions to participate in a day of roundtable-style discussions on the problems, questions, and ambitions of researching and writing global histories of Eastern Africa in the (mid-)twentieth century, especially with reference to textual cultures. Our hope is to build a collaborative network of scholars around the existing project, including those working with similar methods or on similar questions using different methods, and thus to make the most of the potential for engaging with one another's work.
As 'Another World' has propositioned, East Africa offers a challenge to narratives that assume a linear trajectory in the history of twentieth century globalisation. East Africa's global connections were powerful and real at independence. But by the early 1970s, utopian ideas of a globally connected African future had been destroyed by introverted nationalism. Printed material and written correspondence were crucial vehicles for global thinking in East Africa and as such are one powerful way to trace how a vision of a connected postcolonial world shattered. They were vehicles of connection, through which links were forged and affinities were imagined, and of disconnection, in which incommensurable difference was asserted and networks ruptured. Over the course of the workshop, we would like to address some of the methodological and conceptual questions that arise from these assertions.
Lecture: Emily Callaci (University of Wisconsin-Madison), 'Decolonizing reproduction: African health workers and the population control movement'
26 September, 5.15-7pm
Edinburgh Centre for Global History, Sydney Smith Lecture Theatre