"A Week in the Archives" – a phrase that may signify a banal pastime for most historians, but is one that belies the ambition, commitment and intensive collaboration that lay behind our project.
From the 17th to the 23rd October 2019, the 'Another World' team found themselves in Nairobi to conduct intensive archival research in collaboration with Kenyan colleagues – Jeremiah Mutuku Muneeni (Kenyatta University), Evans Onyango (Kenyatta University), David Maina (Kenyatta University), Philip Ondere (Kenyatta University), Zadock Mukuyia (Masinde Muliro University of Science and Technology), and Andrew Nyongesa (Kenyatta University). Our archival team consisted not only of historians, but also PhD students from the disciplines of literature, archaeology and international relations, thus bringing diverse perspectives to approaching primary source material.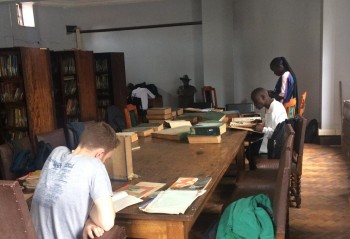 The premise of the workshop was to carry out research on East African individuals active in the 1960s who lived different forms of global lives, in whichever way this may have taken shape, either through frequent travels and connections abroad, or through experiencing the world within their immediate localities. The aim of this is to construct an open-access teaching resource for East African history on our project's website. Each participant selected a biographical figure they would research in the archives during the week, and in the evenings, we would gather to discuss our findings of the day, our successes and failures. The week-long project culminated in a final workshop held at the French Institute for Research in Africa, at which we presented our biographies to a broad audience interested in East African history.
As with most ambitious projects, things did not always go the way they were initially planned, and several of our team had to change biographical subjects, simply because of lack of archival material. Things went up and down: when we met in the evenings after a day-long archival trawl, often a number of us reported failing to find anything on their figures that day, but on other evenings, some of us came back excited with the wealth of archival material we had discovered. In the end, the figures we researched and presented on were: Rajat Neogy, Pio Gama Pinto, Barbara Kimenye, Argwings Kodhek, Jean-Marie Seroney, Arthur Aggrey Ochwada, Boloki Chango Machyo W'Obanda, Margaret Kenyatta, Daniel Owino Misiani, Hilary Ng'weno, Nathaniel Mtui and Nuruddin Farah. We split our time between the Kenya National Archives, the McMillan Memorial Library, the Daily Nation archives, the library of the British Institute in Eastern Africa, as well as the library of the University of Nairobi. Together, we plotted the lives of these figures and constructed their biographies, gradually building a picture of a global East Africa in the 1960s, as presented through the subjects we researched.
Our evening meetings also consisted of discussing articles we had read previously, which lent extensively to us thinking about biographies and biography-writing in an eastern African context. These included 'Local Intellectuals: Lakito Okech and the Production of Knowledge in Colonial Acholiland', by Patrick W. Otim (2018); 'Tanganyikan Nationalism as "Women's Work": Life Histories, Collective Biography and Changing Historiography', by Susan Geiger (1996); 'Marx in campus: print cultures, nationalism and student activism in the late 1970s Kenya', by Duncan Omanga and Kipkosgei Arap Buigutt (2017); and 'Manifesto: Networks of Decolonisation in Asia and Africa', by the Afro-Asian Networks Research Collective (2018).
Reading these articles gave rise to a number of questions that we conferred about together (and that I will continue considering over the course of my PhD): What do absences in archives and sources say (or not say)? What are the bigger stories behind individual life stories of biographical subjects? How do we consider biographies as opposed to life histories? What are the strengths of individual versus collective biographies? How do we consider biographies of objects, such as newspapers? What does the term 'cosmopolitanisms' denote (as we found it to be a rather problematic and loaded term in our research)?
On a more personal level, what I enjoyed the most was seeing the fruits of teamwork in a collaborative project such as ours come to be. Over the course of the week, in addition to finding material for our own biographical subjects, we sometimes stumbled across sources relevant to another team member's figure, which we would share with them. We all benefitted from this collective approach to archival research, and this was one I personally found refreshing, as the work of an historian can be rather isolating at the best of times. I think all of us were initially unsure of what to expect of such a week in the archives, but it is safe to say that it was a great success, and we created networks of historians and history-enthusiasts in the UK and East Africa that we hope to sustain in the future.