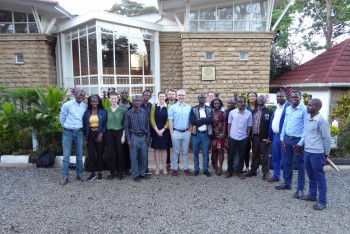 On 23rd October 2019, the six permanent members of the 'Another World?' team, together with the week-long workshop participants, gathered at the Institut Français de Recherche en Afrique (IFRA), to deliver three panels on East Africa's global lives, alongside three keynote from Peter Wafula Wekesa, George Gona, and Godfrey Sang.  The workshop served several purposes: to exhibit the research that the team had conducted in the previous week and tell the story of their biographical findings; to expose 'Another World?' to a wider network of African scholars, so that the project can be scrutinised; and to invite anyone who may want to be a part of the biography series to get involved.  The biographies presented will be redrafted and will make up an open access teaching resource on the 'East Africa's Global Lives' section of this website.
Dr. Peter Wafula Wekesa (Kenyatta University) opened the day with a paper about researching and writing Kenyan history.  The idea of "authenticity" seemed to resonate with many of the people who attended, as well as the question of what we may think of as a source.  His paper was followed by that of Dr. George Gona (Univeristy of Nairobi), who reflected on his experiences of writing biographies of both living and deceased subjects.  He considered some of the difficulties that he had encountered as well as affirming the usefulness of biographical writing. Our third keynote paper, later in the day, was by Godfrey Sang, who gave a fascinating presentation on the research he has conducted on the history of the Black Cantabs (black alumni from the University of Cambridge).
These keynote papers put us in an excellent position to open our first panel which consisted of Gerard McCann's paper on Rajat Neogy, the founder of Transition Magazine.  Gerard was followed by Jeremiah Mutuku Muneeni on politician and freedom fighter Pio Gama Pinto.  Anna Adima followed with her presentation on author Barbara Kimenye.  The panel concluded with Andrew Nyongesa's presentation on novelist Nuruddin Farah, before a question and answer session.  Following the panel, we paused for lunch where we were all able to discuss some of our thoughts from the morning.
In the afternoon we launched straight into the second panel, where Evans Onyango opened proceedings with his presentation on lawyer Argwings Kodhek.  David Maina followed with his presentation on human rights activist Jean-Marie Seroney.  Dan Branch delivered his presentation on politician Arthur Aggrey Ochwada.  Ismay Milford followed with her presentation on nationalist and pan Africanist Boloki Chango Machyo W'Obanda.
The final panel saw Philip Ondere present on Margaret Kenyatta.  Daniel Heathcote presented on benga musician Daniel Owino Misiani.  Zadock Mukuyia presented on historian and journalist Hilary Ng'weno. Emma Hunter concluded the presentations with her paper on Tanzanian historian Nathaniel Mtui.
Reflecting on the day some key questions were raised.  The first being: what is East Africa? Where do we draw these distinctions?  The subjects covered during the workshop were mainly Kenyan (a few were Tanzanian and Ugandan).  On reflection, we wondered how we may understand and conceptualise "East Africa", moving forward.  The usefulness of biography was also questioned: does it just serve the academy, or can it have wider appeal?  As a whole, I believe we agreed that biography has unique appeal as a historical genre and is popular not only to academics but to the wider public as well.
The day was a great success and we would like to extend our gratitude to all who participated in the workshop as well as IFRA.  If you would like to write an 'East Africa's Global Lives' biography, please contact us on anotherworldglobaleastafrica@gmail.com.